ONE TEAM! ONE GOAL! ONE VOICE!
A Parkinson Disease Support & Advocacy Organization
OUR MISSION
Movers & Shakers is committed to the Support, Education, Outreach &
Encouragement of the Parkinson's community through our Programs &
Cooperative Network of Caregivers, Medical Practitioners, & Legislators
to enhance the quality of life of those affected by this disease.
---
---
2nd Annual Parkinson Awareness and Fund Raising Cruise
Get ready for some fun in the Caribbean sun!! Meet new friends! Wonderful enrichment programs!
---
The 3rd World Parkinson Congress was held October 1-4 2013, but the awesome memories will linger on for quite some time.
It seems a lot of us came away from WPC 2013 with many feelings... maybe the best of them would be RENEWED? HOPEFUL?!! EMPOWERED! ( that one is my favorite!)
The blogosphere is lighting up, the FB status's are all a buzz with something positive that each of us brought home with us.
I think my list would too be pretty long... Getting to meet Tim Hague the Canadian Amazing Race Winner who has Parkinson's and chatting with him and his wife while out to dinner.
Getting picked up at the airport by Jill Ames-Carson & crew... So cool!
Tom Isaacs and his rendition of "That's Life".
Launching our PDPALS!
The overwhelming joy of seeing old friends and the joy of making new ones.
For me, the pride of being able to volunteer to work with the Parkinson's Quilt again. 42 Panels, 16 blocks each, with a story behind each one. It was the person who would shyly come up to us and ask us for help in finding their block, the one they made for their loved one who has since passed away. Or the woman who is now confined to a wheelchair but loved her shoes and that was what her quilt block was about was her shoes. Sometimes, I had to go and excuse myself to go cry a little... or
a lot.
It was the empowerment and pure joy of being able to be a part of the "Voices of Hope" Choir from Ireland, and the Mob Choir. The song, "Something Inside so Strong" still plays in the back of my head.
The presentations that gave us hope that doctors and researchers were REALLY listening to US!! The ones that have this really nasty foul disease!!! and just maybe going to do something about it....
Of course none of it would have been worth a hill of beans were it not for the fact that I was there with my wonderful husband, Michael J Church Sr. Words cannot express how he much he is the glue that right now is holding me together. Thanks sweetie!! Those are the things that I will keep in my heart for the next 3 years.... Until Portland in 2016!!!!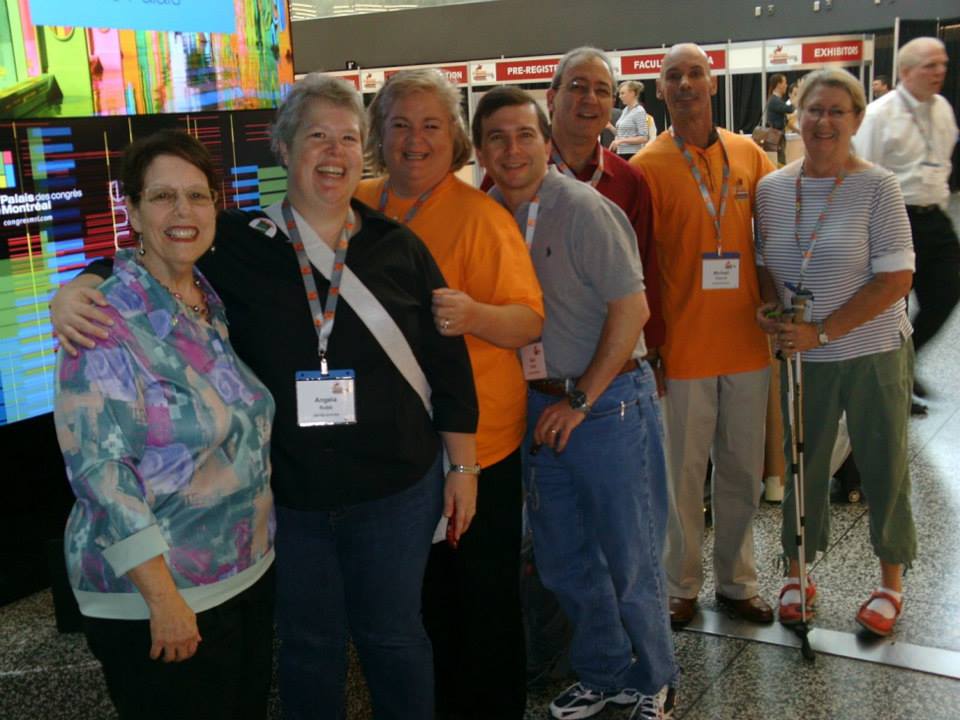 ---
The Parkinson's Action Network presents "The Power of Advocacy" –
an exciting panel discussion about how advocacy can make a difference for the Parkinson's community!
"Fewer than two dozen Members of Congress out of the 535 have any healthcare experience. So, they may have heard of Parkinson's disease, but do they really know anything about it? You can communicate facts and figures, but it's really important to build those relationships to educate." – J.P. Paluskiewicz, Deputy Chief of Staff to Representative Michael Burgess (R-TX)
In this video, viewers will learn:
Why it's important to reach out to your Members of Congress;
How to ask for what you want when emailing, calling, or meeting with congressional staff;
Why finding common ground and being realistic about the legislative process can help you get what you want;
Why telling your personal story, and the impact a policy decision has on you, is so important; and
How to follow up your meeting, phone call, or email effectively and get results!
Panelists:
James "J.P." Paluskiewicz, Deputy Chief of Staff to Representative Michael Burgess (R-TX)
Cynthia Rice, Vice President for Government Relations, JDRF
Israel Robledo, Parkinson's Action Network Texas State Director
Lisa Shulman, M.D., Professor of Neurology, University of Maryland
Mary Woolley, President, Research!America
Moderator:
Amy Comstock Rick, CEO, Parkinson's Action Network
---
Will you Sign the Parkinson's Global Pledge!!
Global Parkinson's Pledge

We launched a worldwide appeal for one million people to sign the Global Parkinson's Pledge at the second World Parkinson Congress in Glasgow, Scotland on September 28, 2010, to help build a global Parkinson's movement, to make Parkinson's a priority health, social and economic issue around the world, and to advance the cure.
---
Tell us your stories. We want to hear how you or your organization are generating awareness or having events for PARKINSON'S DISEASE.
Email Us at: pdadvocates@aol.com
---
To Donate to Movers & Shakers